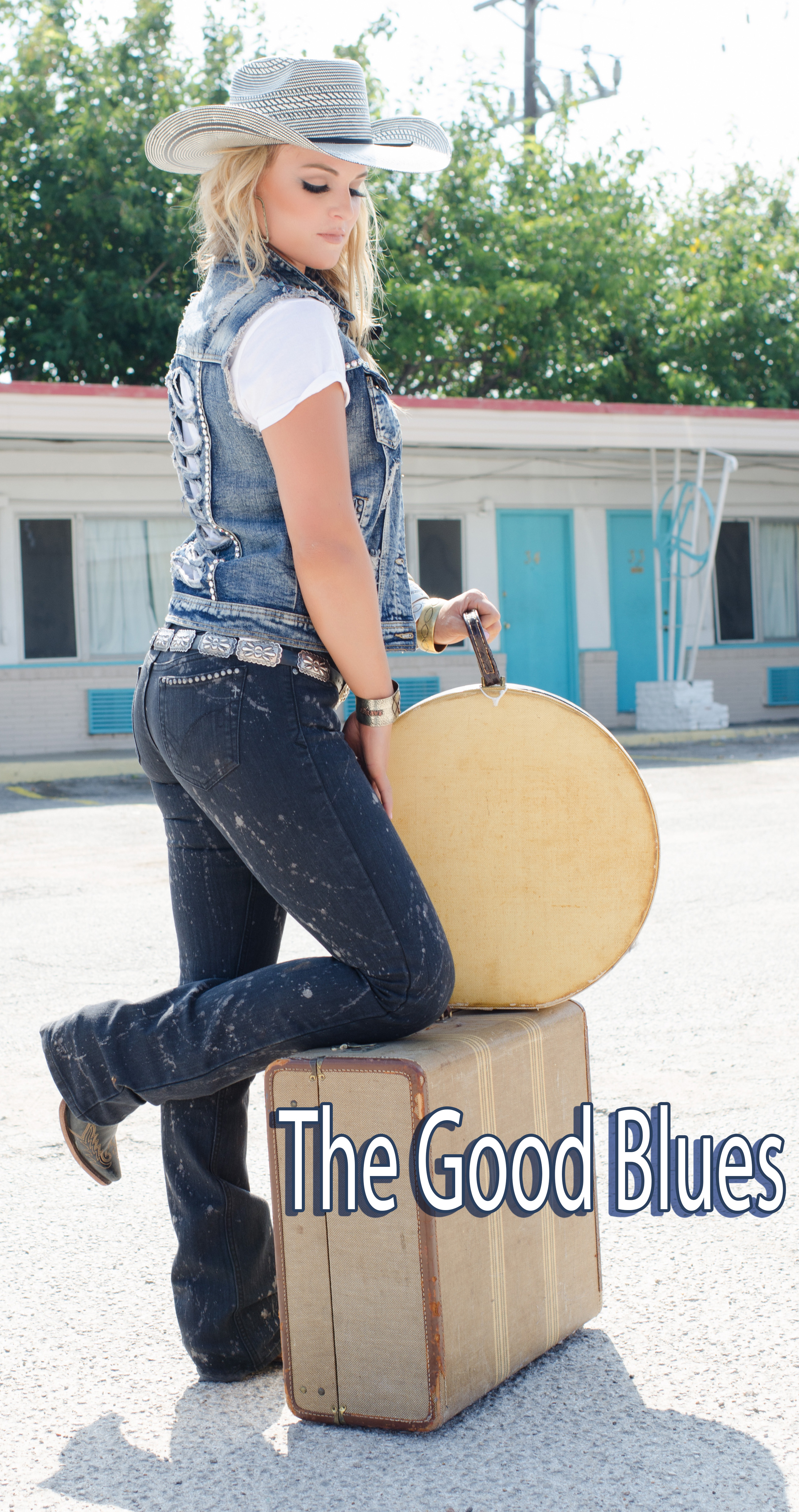 I'm so excited to design a line of denim again! I've always loved the washes and the different tints that denim can hold and become. It's crazy to see a plain swatch/leg of denim and then treat it and see what you come out with.
I love bells and whistles on jeans. The "Janis" and the "Motley" are my two favorites by far because they showcase two different spectrums of my personality: the hippie that I have always been and the rock and roll girl I have become through Gypsy Soule.

Speaking of being a hippie, I feel like denim connects the wearer to nature. After all, it comes from a plant. The process of creating denim is as amazing as it is simple. The cotton is harvested, cleaned and then taken to a denim mill. The bales of cotton are in one end of the mill, and, as you walk through the mill, these compact bales go from being turned into thread, to woven into denim, and finally, resulting denim is dyed. At one end of the mill, there's raw cotton, at the other, fresh indigo fabric, ready to be made into something fabulous.
And I love doing fabulous things to denim! Bleaching jeans is one of my favorite things to do and I have always done it—for years—to trick out my jeans so they didn't look like everyone else's. Plus, I think it goes back to starting with one thing and creating something new out of it with some scissors, crystals, studs and bleach! The prototype for the "Motley" sample that we sent to the factories was actually created by hand in my kitchen and laundry room with all of those tools!

Growing up on a ranch, jeans started out as a uniform for being horseback, they could stand up to all kinds of punishment.  Although, I am not gonna say I only wore jeans to ride – I might have been guilty a few times of wearing pajamas and shorts to cruise the pastures in. You should have seen the look on the cowboys faces! But I digress, back to Denim! The more I wore them, the more I tricked them out, whether I was on a horse or not, so they would stand out and be unique. That's what we tried to do as we designed our Gypsy Soule denim line. We gave you basics, but with premium denim and treatments. And then, with our original fashion sense, we wanted to give you something no one else had, something that would really set our clientele, and us as a brand, apart from the rest of the jeans in this world.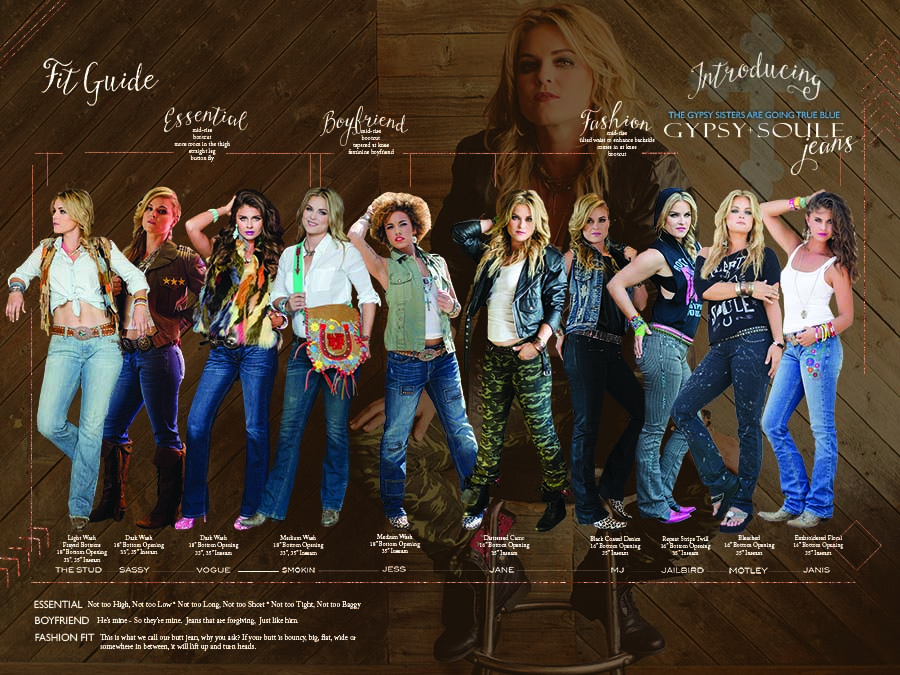 I've loved watching the trends over the years, from high waisted, to '70's bell-bottoms, to dark trouser dressy jeans. It's fun to watch the jean evolve and the styles recycle. In a sense, you see it with jeans more than anything else. I love that, in this day and age, denim is so versatile that it can be considered dressy or casual. Want dressy in the Gypsy Soule line of denim? Go with the "Vogue," which can be paired with a fur coat and high heels and worn out on the town. Want a casual hippy kinda day? Well then our "Janis" is the answer for you!   Wear it with a tank and Gypsy Soule boots or flip-flops, just kickin' around all day.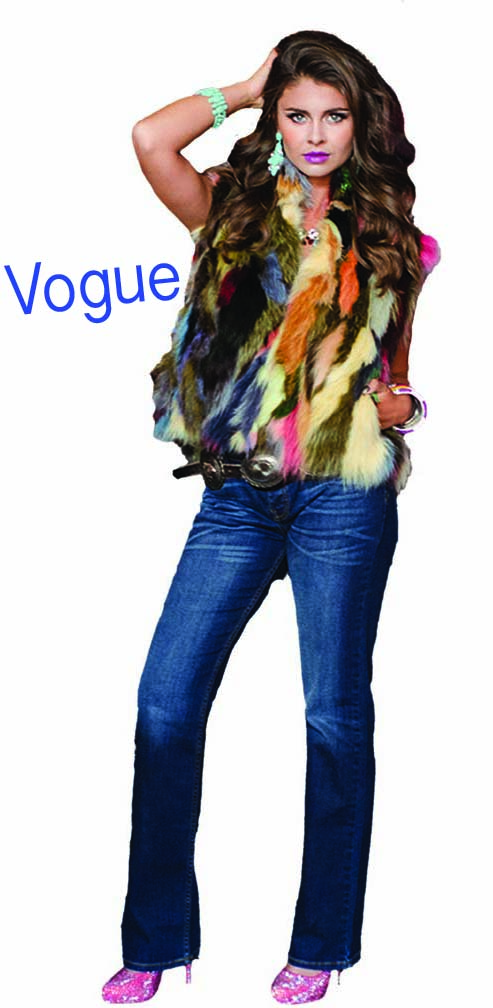 Now, I'm not prejudiced—I like denim in shirts, denim vests and, of course, the denim jacket—you ought to see the denim section in my shirt closet! So stay tuned – because you never know what will turn up next in our denim line.
–Amy