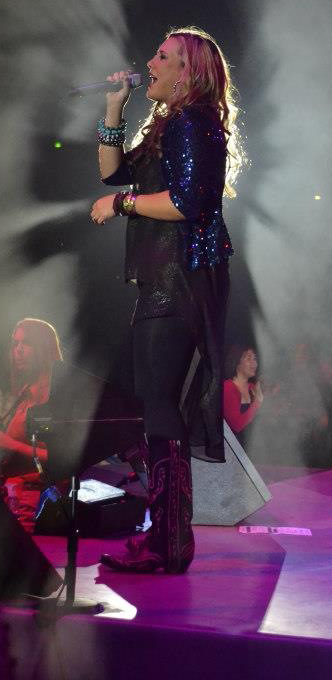 Name: Martina Otterbeck
Profession: Singer/Songwriter for the duo Terra Bella, Wife, Dreamer, Mermaid and Puppy Mom
1. Why is it important to live by your own rules?
Because there is no point in doing what has already been done.
2. If your house was burning what is the one item you would grab before leaving?
The American Flag that my Grandpa brought back with him from the Korean War.
3. What are the beauty products you can't live without?
Burt's Bees Lip Balm, MAC bronzer and mascara.
4. Where is your favorite place to shop?
Gypsysoule.com DUH!!! I'm also a huge Simdog fan so shopsimdog.com
5. When you were little what did you want to be when you grew up and why?
I wanted to be a Rodeo Cowgirl because who doesn't love a strong independent woman?!!
6. What women do you admire and why?
Wynonna Judd and P!nk. They are both amazing artists, singer/songwriters, mothers and entrepreneurs and have very unique styles. Totally LOVE them!
7. What is the hardest thing about being a women in your industry?
I feel there is more pressure on women in the industry to look "perfect". So silly. Love who you are and ROCK what your mama gave ya!!
8. Have you read any books lately that you would recommend to us?
The Secret. I'm reading it now, again, for the 5th time. It keeps me positive in this crazy beautiful life!
9. Pet Peeve?
People who smack their gum!!! Drives me bonkers!!!!
10. What charities are you involved in, why should others become involved with those charities?
My husband and I are huge supporters of the Agriculture Industry. I believe that without it, the world would be lost. I am an AGvocate for Ilovefarmers.org and a lifetime National FFA Alumni member. It's my way of giving back to the industry that helped mold me into the woman I am today.
11. What is the most memorable day of your life?
The day my husband proposed to me on stage, while performing at my hometown rodeo concert! Seriously the coolest and sweetest thing EVER!!!!!!!
12. What's on your DVR?
Bates Motel and Nashville. Eeeek can't wait for the next seasons!
13. What's on your IPOD?
What isn't on my IPOD?!! The Judds, Pink, Merle Haggard, Lee Brice, Beyonce….this list could take while haha.
14. Favorite Cocktail?
Blue Dolphin (water on the rocks)
15. After a bad day what do you do to wind down?
FInd the nearest body of water and go swimming.
16. After a good day what do you do to celebrate?
BBQ Tri Tip with friends in true Cali style.
17. If you could have dinner with any four people alive or dead, who would they be?
Jesus, Wynonna Judd, June Carter, Garth Brooks
18. Favorite 3 things you always have with you.
My wedding ring, my Daddy's turquoise ring, and a promise ring I bought myself in college promising to never give up on my dreams.
19. What do you see as your biggest challenge in life?
Self doubt…it's a nasty little disease.
20. What is the best advice you have been given, and who gave it to you?
My father in law always says, "The squeaky bearing gets the grease". I've been squeaking for some time now and it seems to be working haha!